OUR STORY
Punyatama Prabhakar Sharma, a staunch patriot and social worker. joined Mahatama Gandhi's Satyagraha movement at the tender age of 19. After Independence, he took up gramseva. He served poor villagers of Bapugaon, Urlikanchan and Surgaon.
He earned money by selling his paintings and helped poor farmers to buy ploughs and bulls, dig wells, and build their houses along with providing education. He tried to make them self sufficient. On 14th October, 1976, he sacrificed his life by self immolation as he felt that the state declared Emergency was opposed to human dignity. This earned him the title of "Punyatma" from Sant Vinoba Bhave.
Determined to continue the good work of Punyatama Prabhakar Sharma, his sister Smt. Rukmabai Tallur founded a charitable Trust "Punyatama Prabhakar Sharma Seva Mandal" on 26th January, 1986.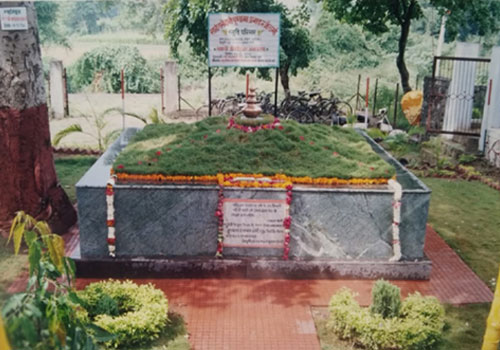 Our FOUNDER
Pujya Rukmabai Tallur also fondly known as Rukmakka, founded the Punyatama Prabhakar Sharma Seva Mandal on 26th January 1986, as a homage to her brother, freedom fighter and social activist, with a vow to continue his life's mission of helping the poor.
She was a teacher and a firebrand social activist, who believed that Spreading the Word of Literacy, would not only help improve the lives of the underprivileged, but also give them self respect in a society that was ridden with societal differences.
She began teaching at Seva Sadan in 1940, and was convinced that by teaching Hindi Rashtrabhasha, would help in mobilizing masses towards the Freedom Struggle. Thus starting the Hindi Movement. She also conducted complimentary Hindi classes to students and women in Mumbai. She played a pivotal role in setting up the Bambai Hindi Prachar Sabha. At the age of 60, she spent most of her time in Alandi, in Maharashtra, teaching impoverished students, and began the open library to encourage reading.
At the age of 81,she started Punyatma Prabhakar Sharma Seva Mandal to continue the noble work introduced by her brother. She went door-to-door collecting funds, clothes, books and uniforms for the charitable trust & donated them to the underprivileged, who were thirsty for knowledge but did not seek the opportunity to educate due to lack of funds.
The Trust started with 13 members paying Rs.500/-. Pujya Rukmabai Tallur, herself collected 2 lacs as corpus in the first year alone.
For such tremendous efforts Rukmabai was awarded multiple accolades:
1989 – Government of Maharashtra honored her by awarding her the "Padmashree Anant Shewade" Award for her work in teaching Hindi; this award won her Rs 10,000/ which she used for the Trust.
1992 – Dr Kashibai Navarange award for her work for the underpriveleged.
1998 – Indian Merchant Chambers recognized her efforts and gave her an award for social work
1999 – Saraswat Abharana Award from Chitrapur Saraswats by Pujya Swamiji Sadyojat Shakarashram of Shirali (N.Canara) for her selfless social work.
Our Trust is working to teach life skills to children from remote villages and make them self-sufficient since 1986.
We support different schools and once the schools become self sufficient our Trust moves on to help other schools.